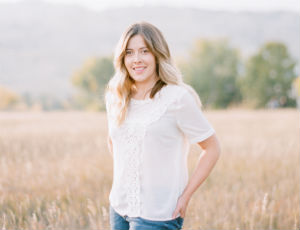 I couldn't be more thrilled to introduce you to the talented
Ashley Sawtelle
, a Boulder-based wedding photographer.
Describe your photography style and approach to weddings.
I am based in Boulder, Colorado and specialize in wedding and lifestyle photography. I use both editorial and documentary approaches to tell many stories with my beloved medium, format camera. I love capturing the complete story of my clients, whether itís a candid moment between loved ones or the individual details that each couple has carefully considered. One of my favorite moments at every wedding is when the couple walks up the aisle after the ceremony. That glow on the coupleís face cannot be replicated.
When and why did you start your business?
I was a lifestyle photographer for years before I started covering weddings. It was after I rediscovered my love for shooting with film. Using film with my work spoke to me in such a way, that I knew I had to capture weddings with this format. After second shooting, building my portfolio, and investing in the right equipment, everything fell into place. I first covered weddings of friends and then my business grew by word of mouth.
How did you learn your craft?
I started shooting with a film camera back in 1999 and havenít put the thing down!
What or who inspires you?
I try to find inspiration in the little, everyday things. Whether itís a homecooked meal or a handwritten note, I love when people take a moment out of their day to create something meaningful. And itís hard to live in Colorado and not be in complete awe of the beauty around us. The people and land inspire me daily!
Any awards or features/publications?
Itís been an honor to be featured on Style Me Pretty, Belle Lumiere, WEDDING magazine of the UK, 100 Layer Cake, Wedding Chicks, Borrowed & Blue, and of course COUTUREcolorado!
Favorite Wedding location.
Iím fond of any outdoor wedding venue here in Colorado. Planet Bluegrass encompasses everything that I love - canyon walls, a river and a huge lawn to celebrate the day away on.
Favorite Wedding Trend.
Iím loving the cascading bouquets that are reminiscent of 1920s floral design. They are truly a piece of art!
Advice for a couple planning a Colorado Wedding.
If youíre planning an outdoor wedding, have a backup plan in case of weather. And if it rains, embrace it! Itís good luck!
Where did you grow up and how did you end up in Colorado?
I spent time between Texas and California. I moved to Colorado over 7 years ago and havenít looked back. An ideal day would be skiing in the mountains and going out for some great food and live music in the city at night. Here a few of Ashley's favorite wedding images.
Check more on her website
.