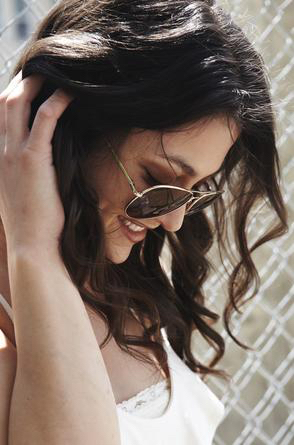 Your wedding invitation is your guests' first impression of your wedding. It will set the mood so make it a good one! I am thrilled to introduce you to one of our LISTmembers Jenna of
FLEUR DE LIS
, a custom paperie. She designs and prints custom invitations, stationery and gifts for every occasion - weddings, birthdays, bar/bat mirzvahs, showers, corporate events, holiday, etc.
When and why did you start your business?
The name of my business was born while I was living in Florence, Italy with the city's symbol - the "giglio" (Italian), or the "fleur de lis". My background is in art history, graphic design, and paper making … so opening up a paperie boutique in 2011 just made sense and was exciting to me. I have always had an appreciation for the art of writing and beauty of paper, and the expression that the combo of paper and writing create. I have always loved weddings and love stories - and now I get to work with people during the best times of their lives. It's such a fun and wonderful thing!
How did you learn your craft?
I am a self-taught graphic designer, and started learning out of sheer interest and curiosity. My education is in art history and I used to make paper from scratch in college (funny, but true!), so being creative has just always been an outlet for me. I have always been interested in the arts, and creative expression. I find a lot of joy in working with people one-on-one, especially when it's designing and printing stationery for their great occasions in life.
What or who inspires you?
Painting and sculpture … anything Italian. Fashion … Audrey Hepburn. Pop culture … W Magazine. Movies … anything filmed in black and white. Life … my family. Favorite Wedding Theme. Because of the emotional component, I would have to say my own wedding. It was the best day of my life after meeting my (now) husband in high school, we reunited and married 10 years later. I would say that our best wedding description would be "vintage glamour". Guests were requested to wear black and white attire, old b&w movies and chandeliers created the mood, my grandparent's old typewriter wrote the guest book, Hazel Miller was the amazing singer/band. It felt like a night in an old-fashioned, glamorous 1920's jazz club.
Favorite Wedding Trend.
I love to combine modern with traditional. Invitations set the tone for the wedding day, and I love when some elements are modern and some traditional. For example, creating letterpress invitations (old school romance), but having the wording a bit more playful (modern and fun). Or doing engraved invitations with etiquette wording (old school), but with white ink on bright colored stock (modern).
Advice for a couple planning a Colorado Wedding.
See me for invitations and save the dates :). But besides that, I would say to make your event your own. There are no rules, only guidelines. I always tell people that my job is to educate them on etiquette, but then can decide to follow it or not, and I can help either way. And no two weddings are the same - that is the beauty of them. Even if your "theme" is the same as someone else, your wedding will still be original because you are unique as a couple. Also trust the people around you and get their local referrals, because you know that they do a good job from people that have used them before. Support local small businesses - they work really hard in their craft and in supporting their families and communities.
Where did you grow up?
I was born and raised in Denver, Colorado. I love it here! I am proud to work and raise my family in such a great city.
Favorite Colorado Pastime.
Red Rocks concerts! Never cease to amaze me. I love and appreciate music, as well as the outdoors. So special! Below is a preview of FLEUR DE LIS work. Check more out on her website:
www.fdlpaperie.com