Q & A with the Bride, Jessica:
Q: Tell us about your wedding! What was the inspiration behind your day? Did you have a specific theme, style or color palette? Did you incorporate any cultural or religious traditions in any part of your day?
A: Only one word comes to mind when we think about our wedding day: perfect. There was quite a bit of hands on planning with vendors in advance, which really allowed for everything to flow without worry on the big day. While there was not a theme, we did want to communicate the importance of community in our relationship. We aimed to achieve a very welcoming, inclusive and joyous event that hopefully translated who we are when we are together. Our colors walked a line between natural and vibrant, which felt perfect on a summer day and night.
Q: Let's talk wedding decor. How did you decorate your space for the ceremony and the reception? Was any part of the decor DIY?
A: Our venue was at Gorrono Ranch in Telluride, Colorado in June so naturally there was already a whimsical, rustic feel. Our surroundings had a preexisting beauty that was only embellished by simple additional decor. With that said, we decided to forego flowers and most traditional ceremony decorations. Other than a directional welcome sign, the only piece of decor during our ceremony was a garland wrapped chandelier hanging above our heads. The breathtaking views of the San Juan mountains were enough to wow our guests and make for fantastic photos. The ceremony was followed by a cocktail hour until everyone moved inside for dinner and dancing. The majority of our budget was focused on flowers for this portion of the evening. Flowers hung from the ceiling over the wedding party table. Lovely arrangements were placed on other tables and bars. In regards to DIY, we did make a few signs, bring rented French country style chargers and napkins and borrow table numbers from our Wedding Coordinator. These little touches do tend to tie an event together.
More below the photos.......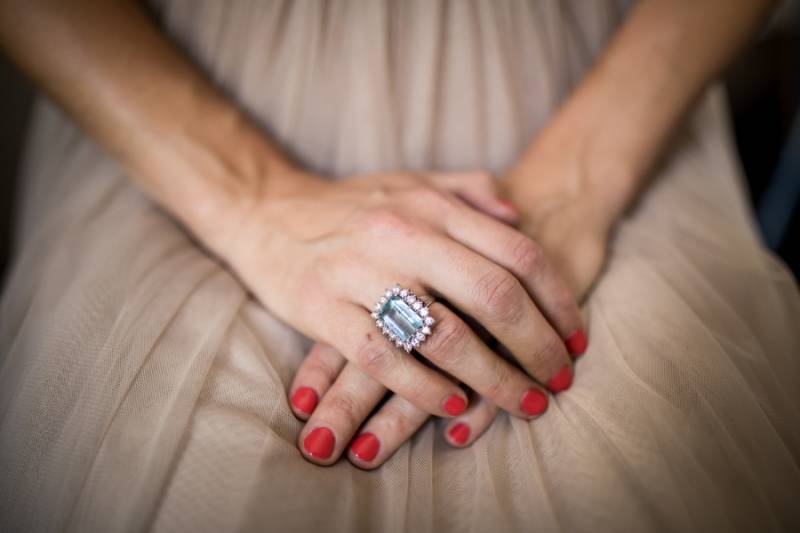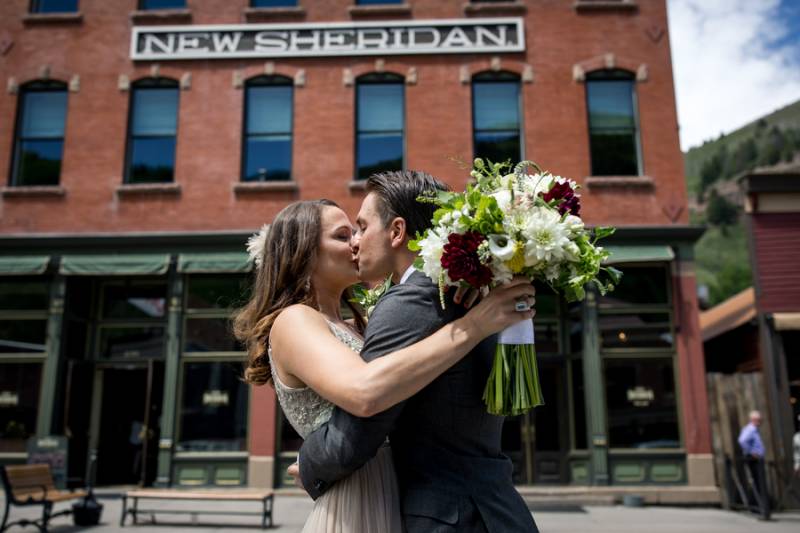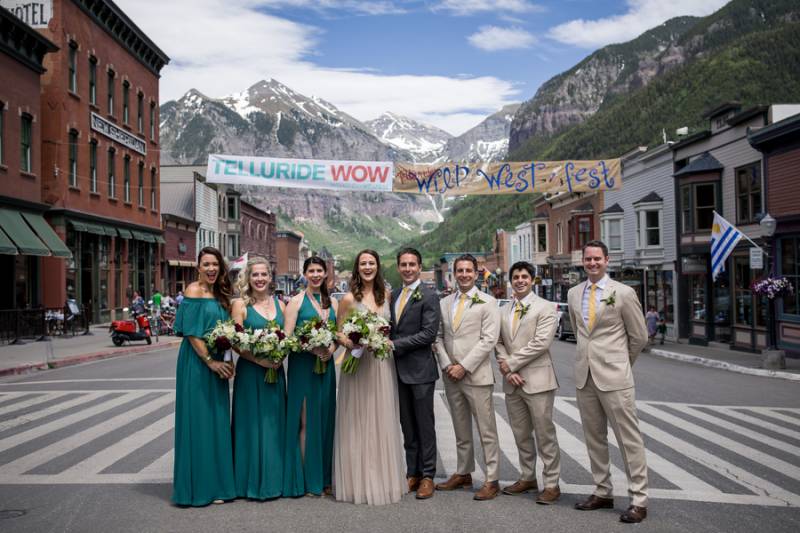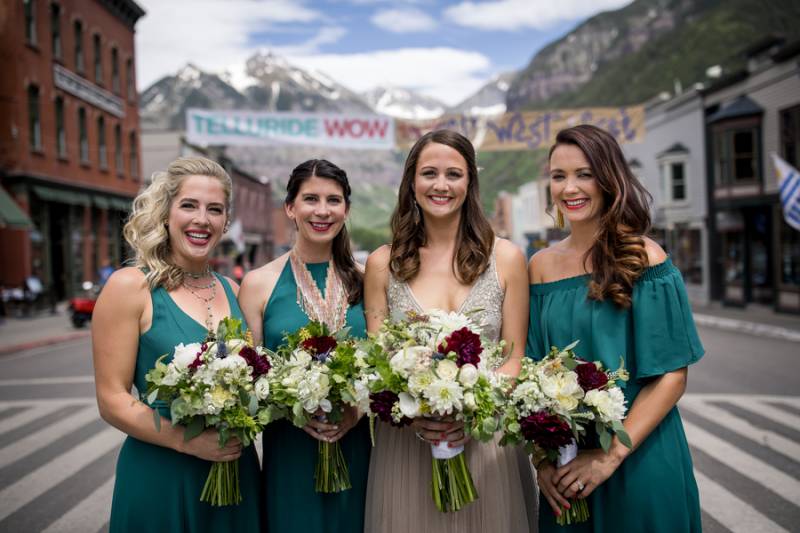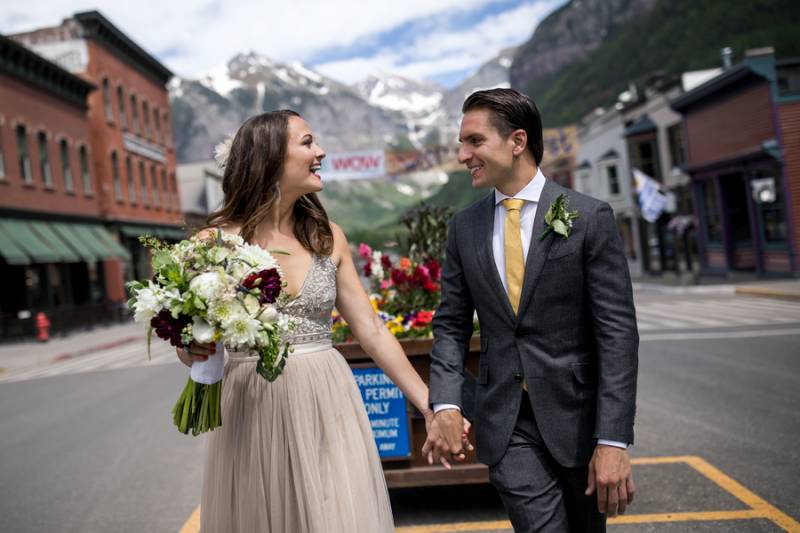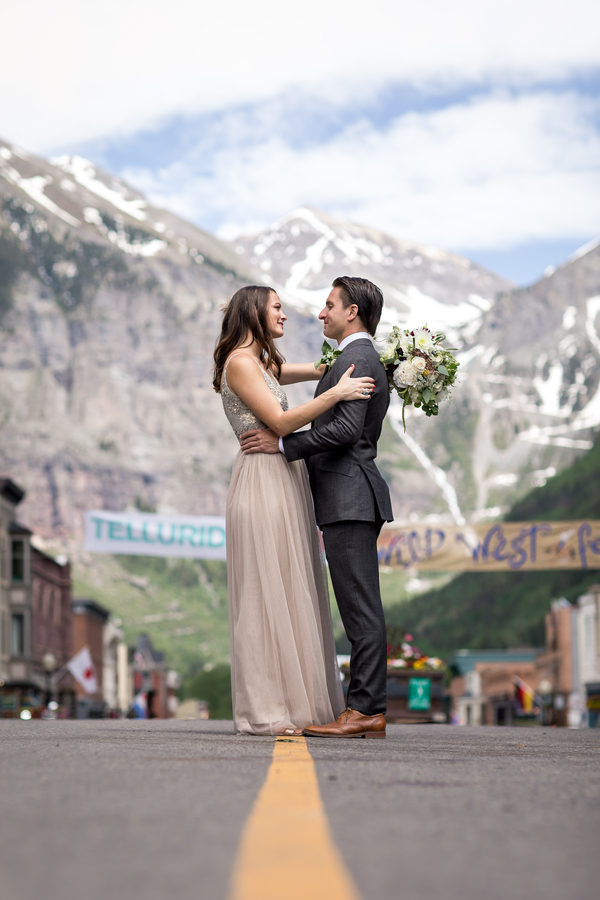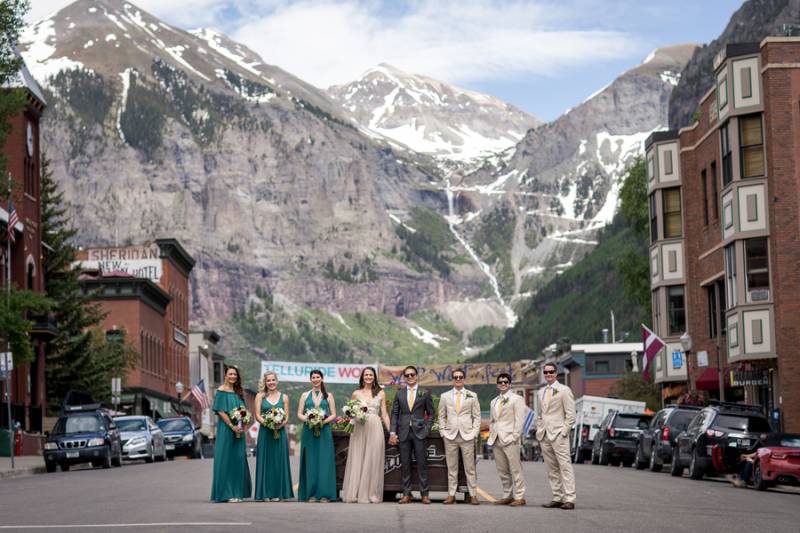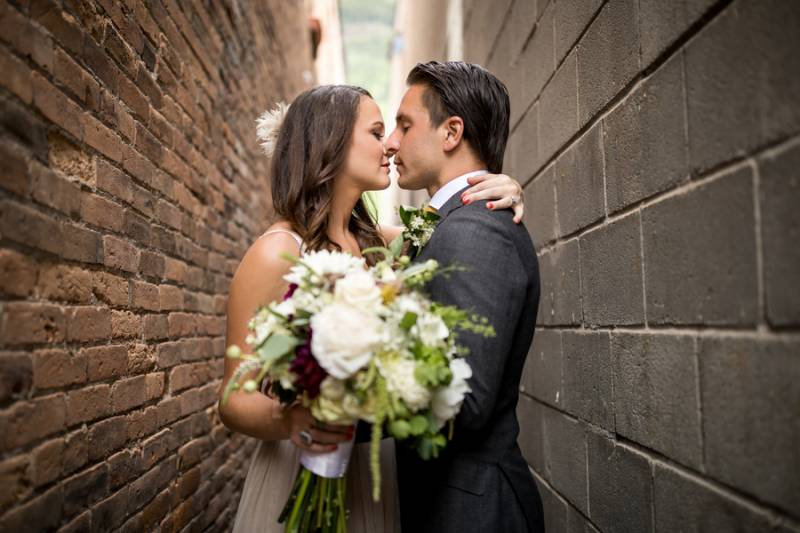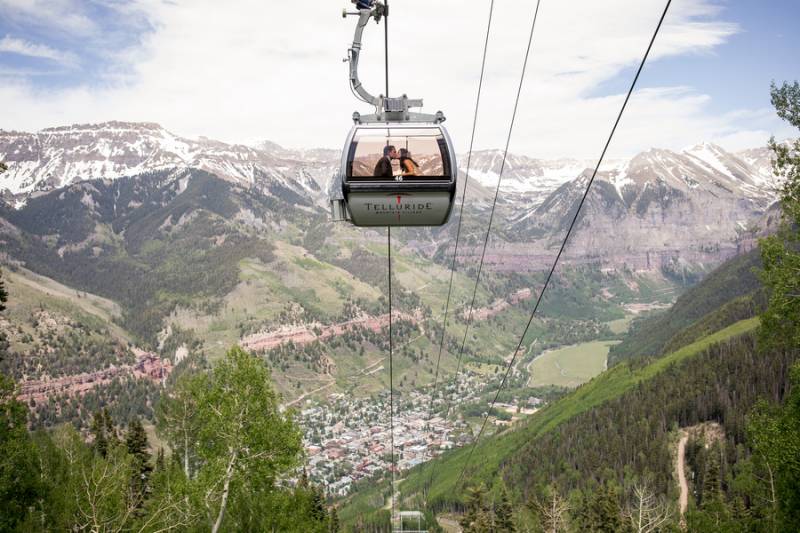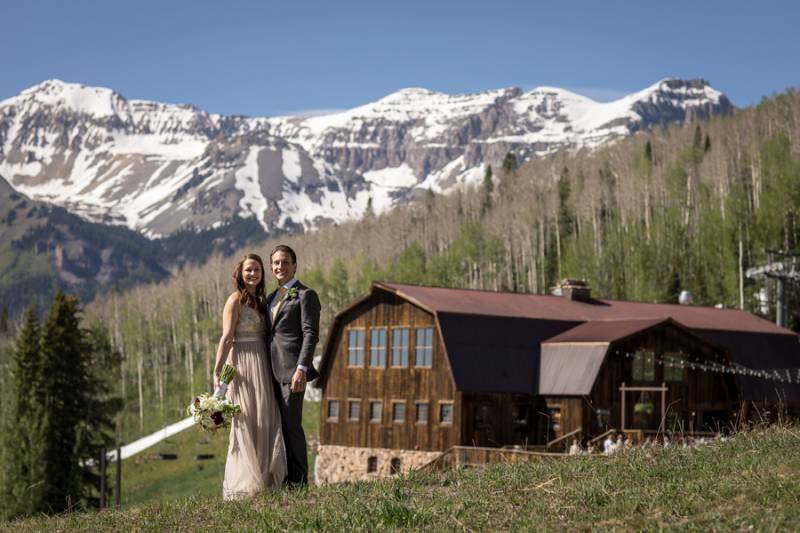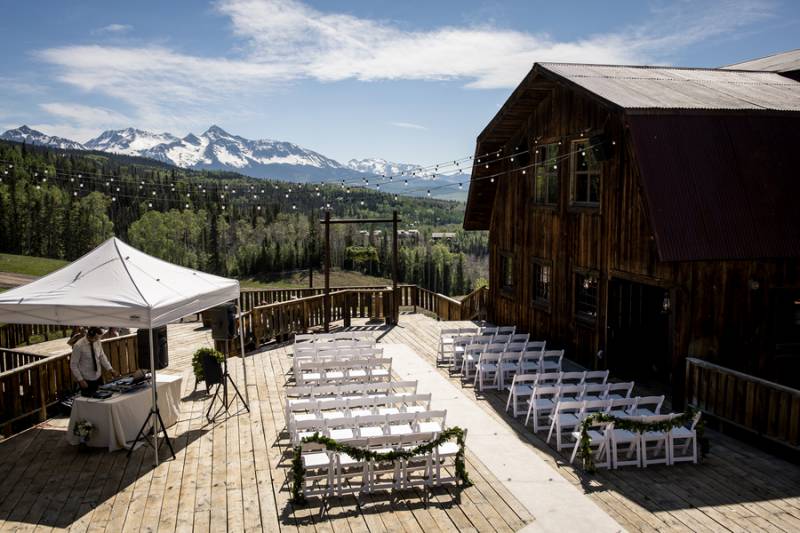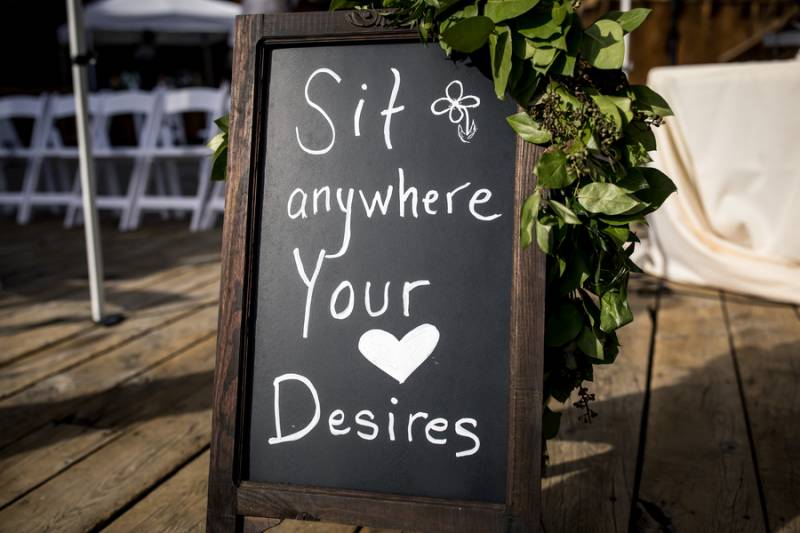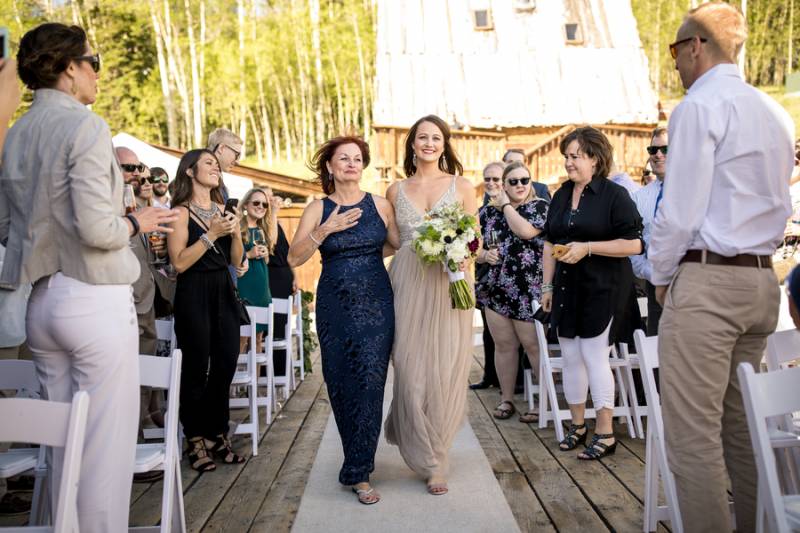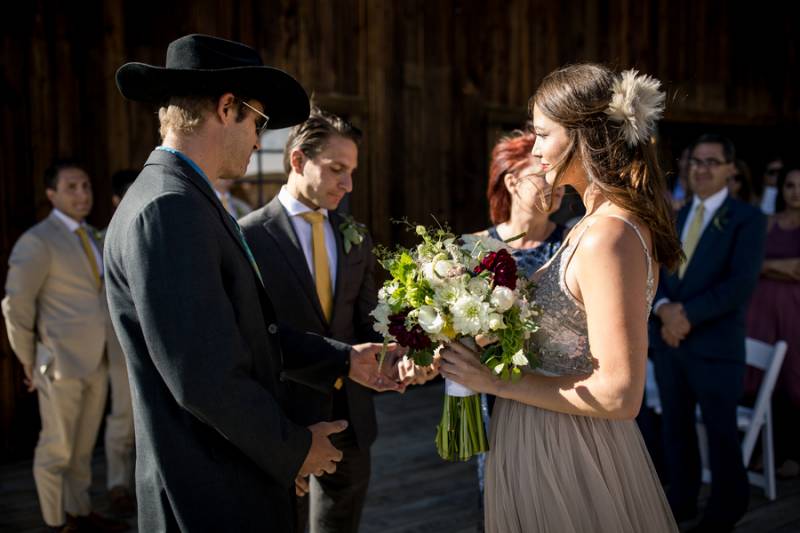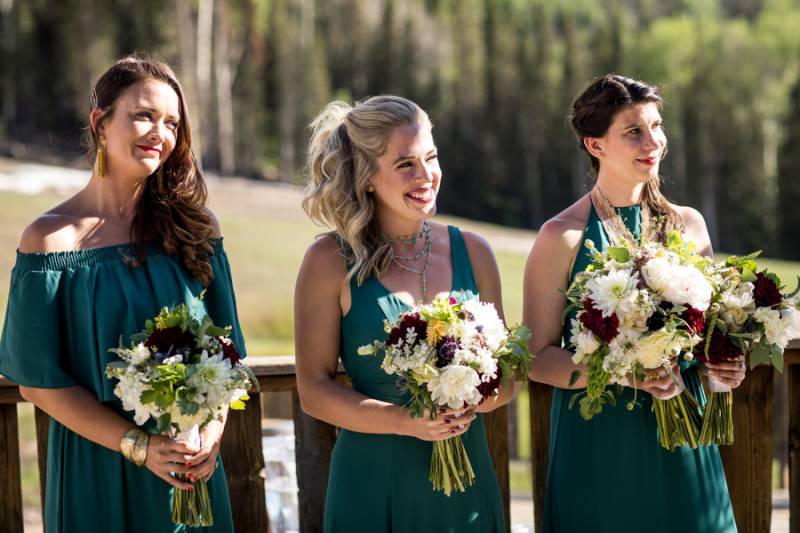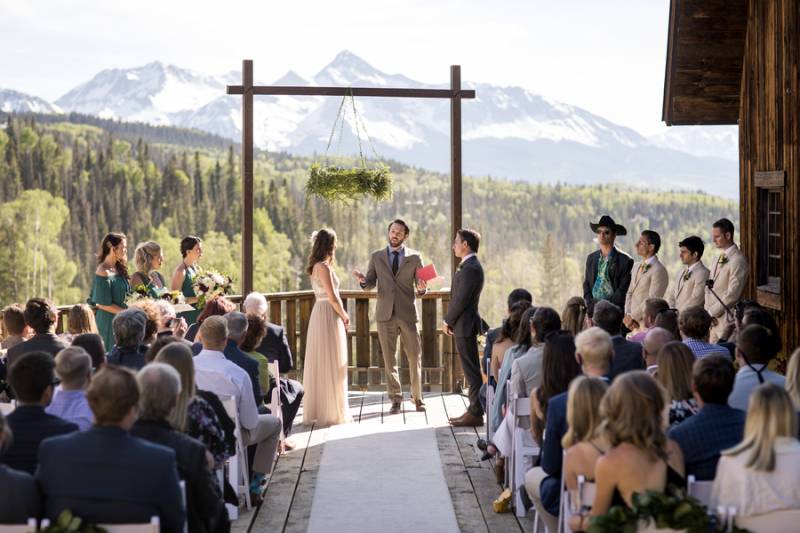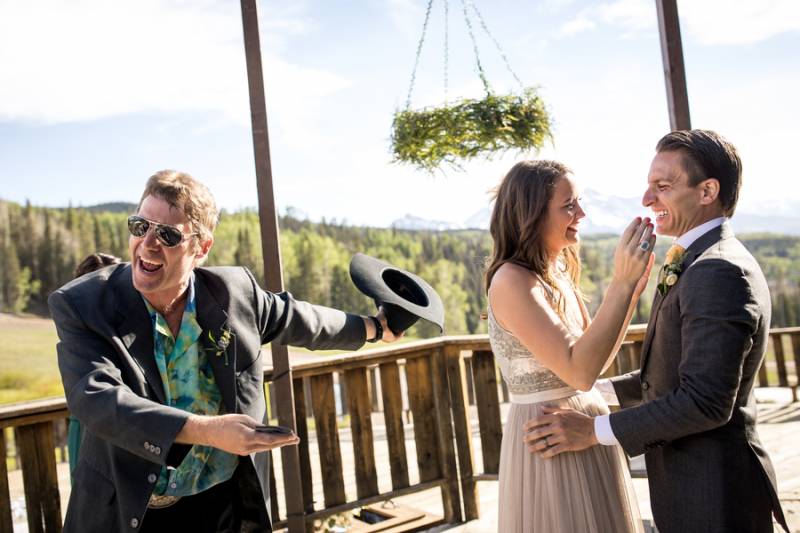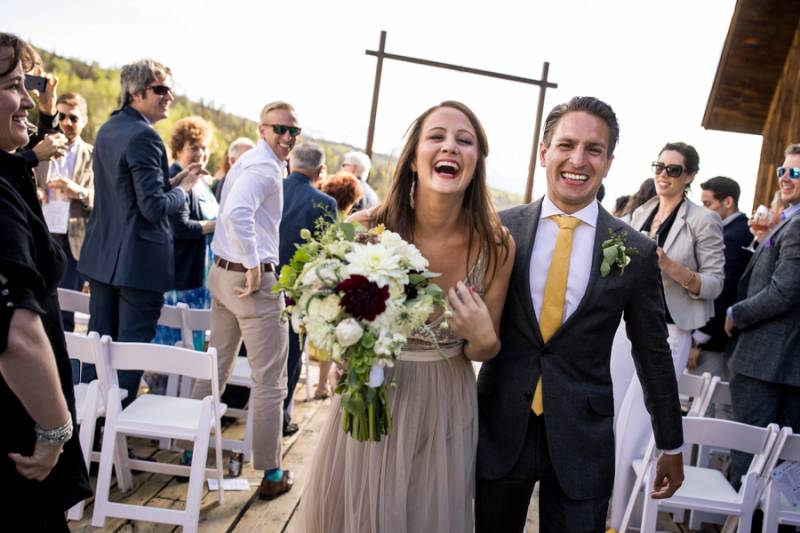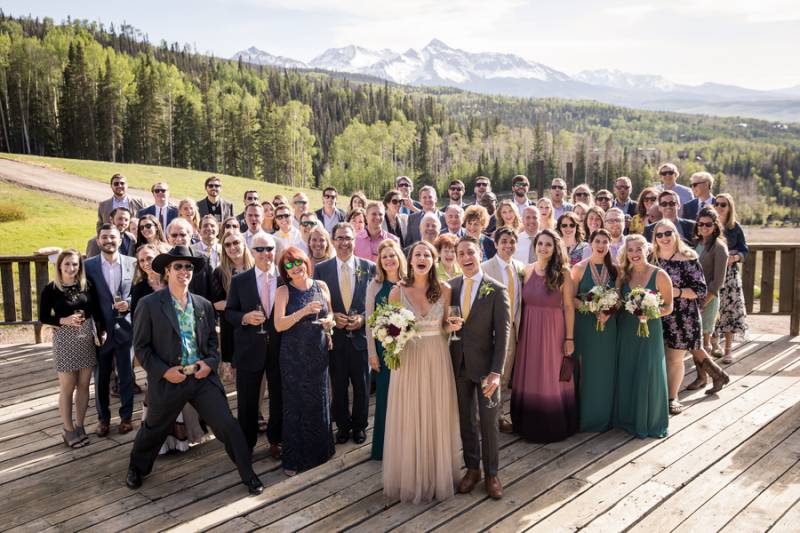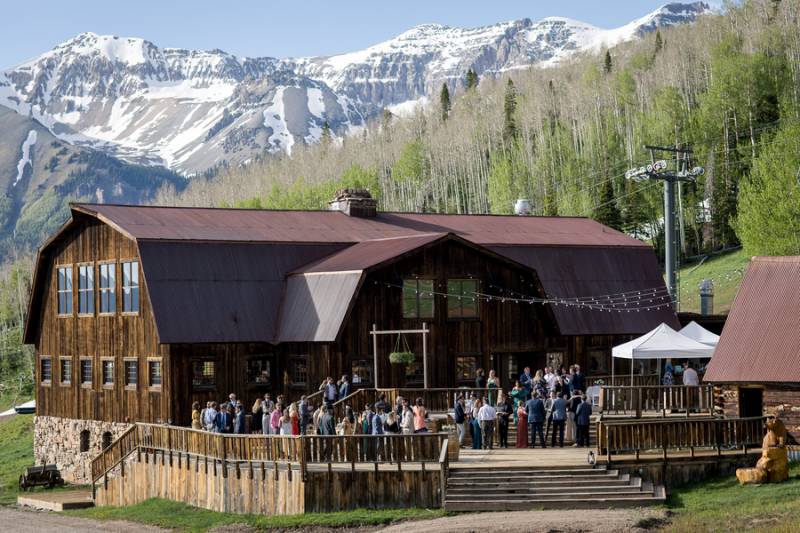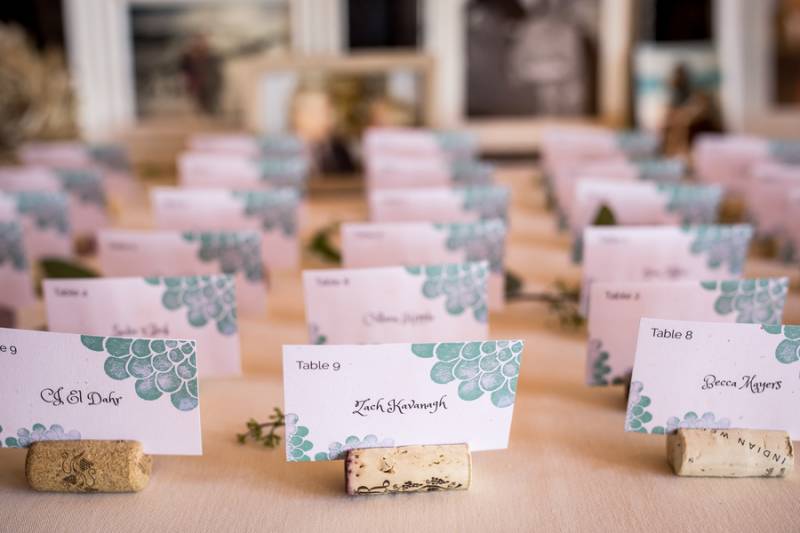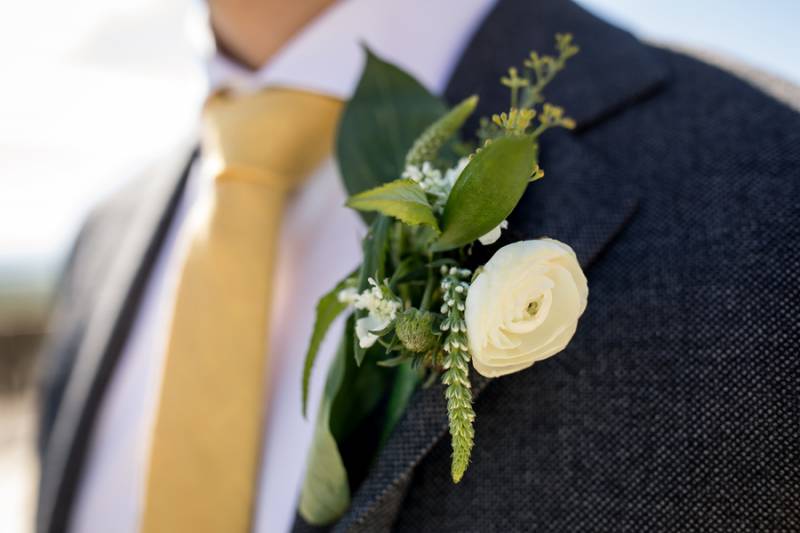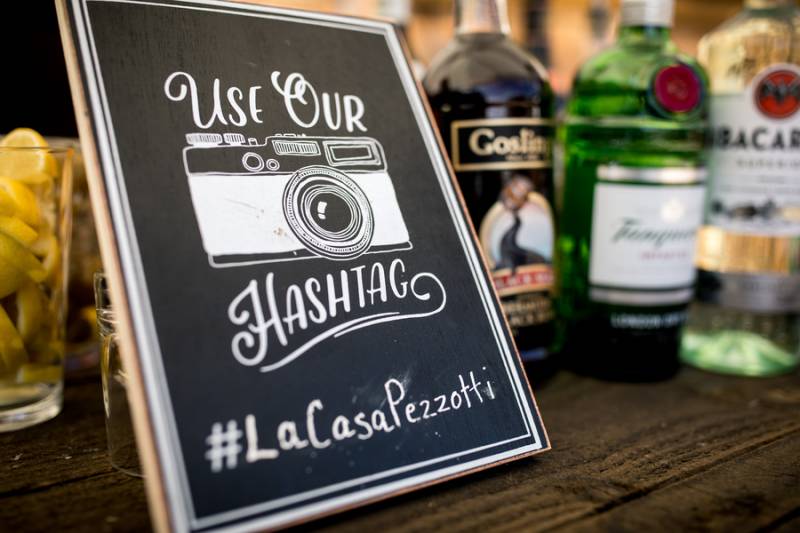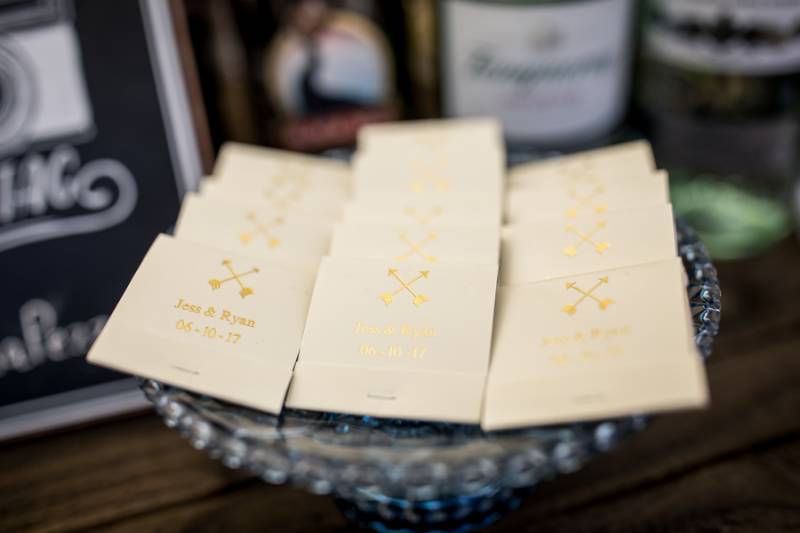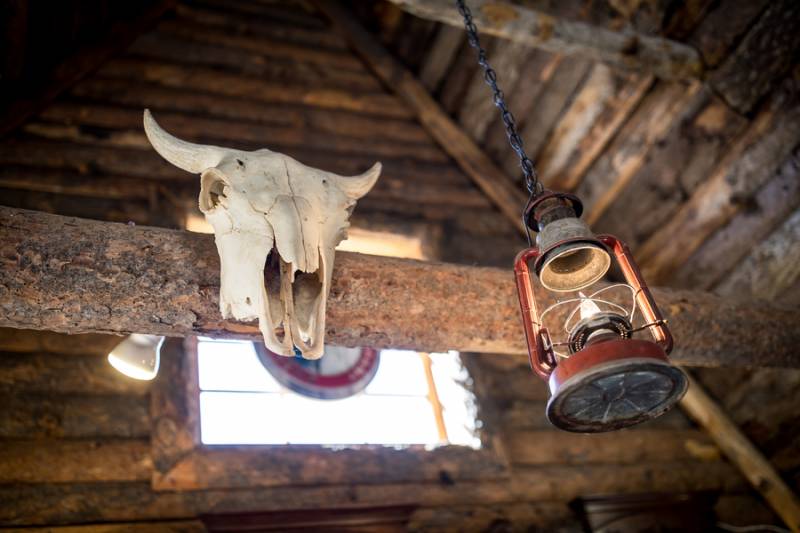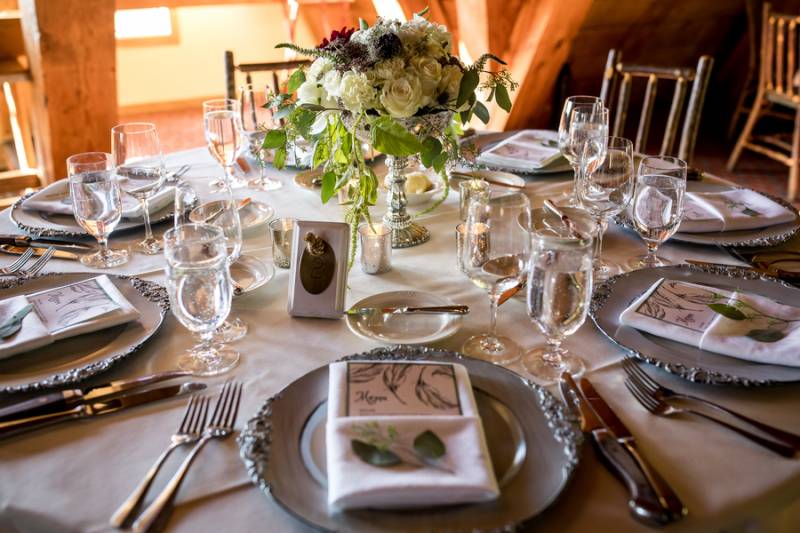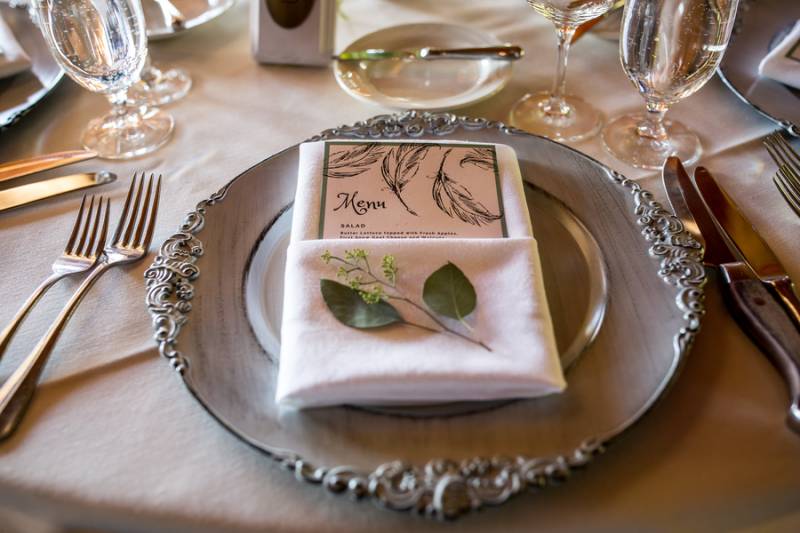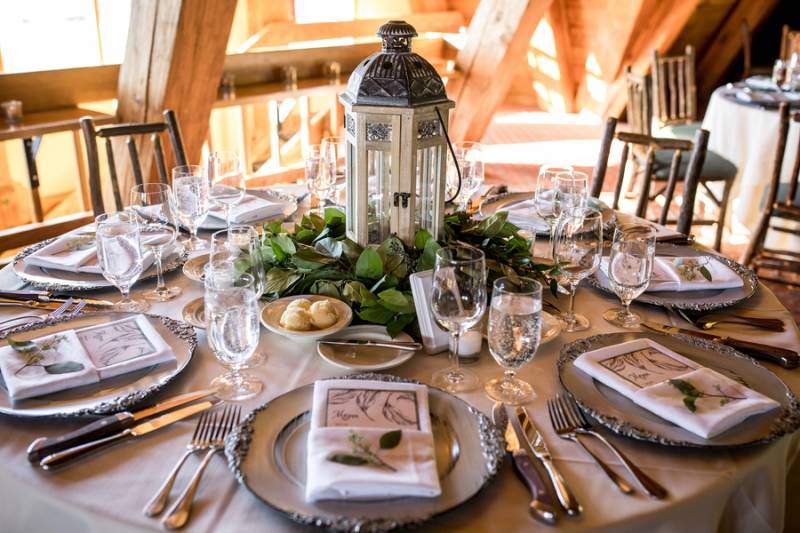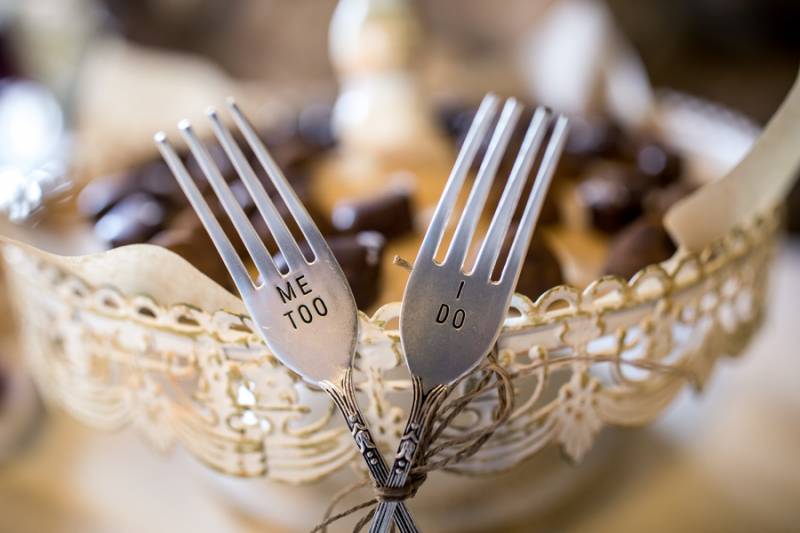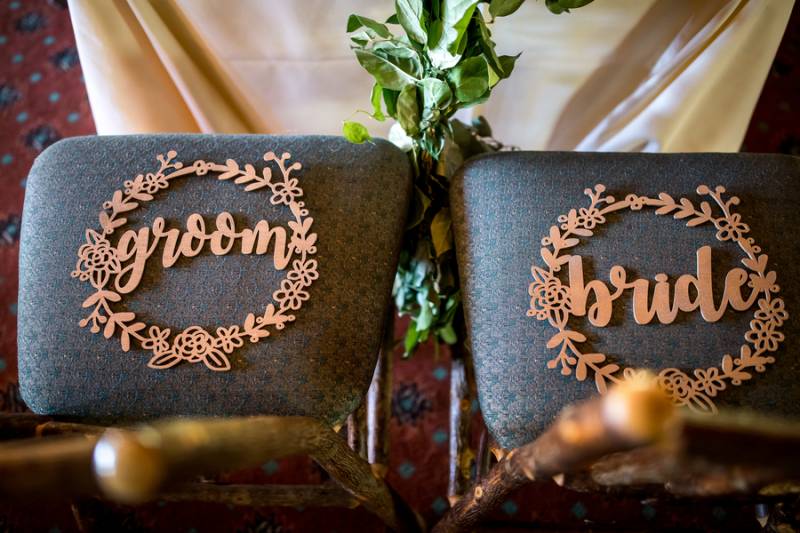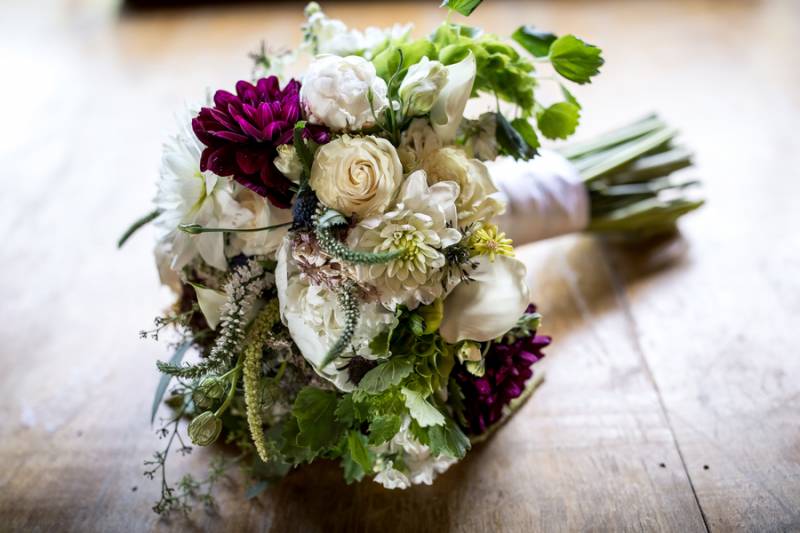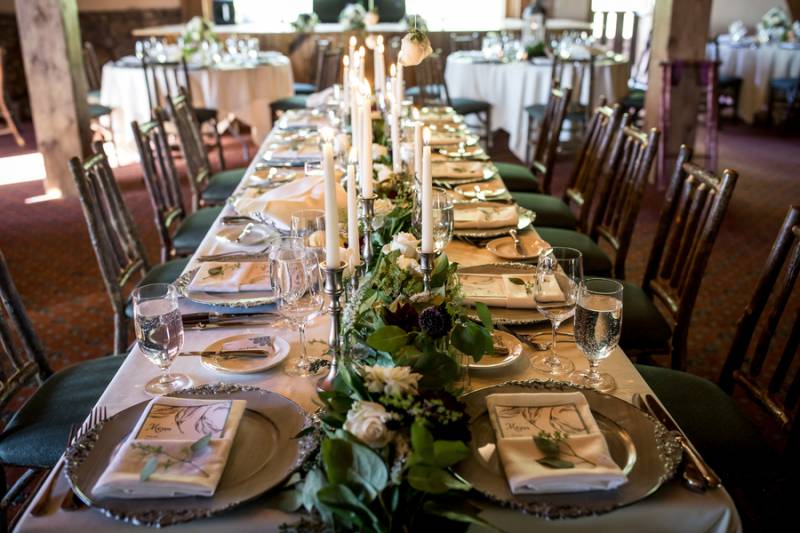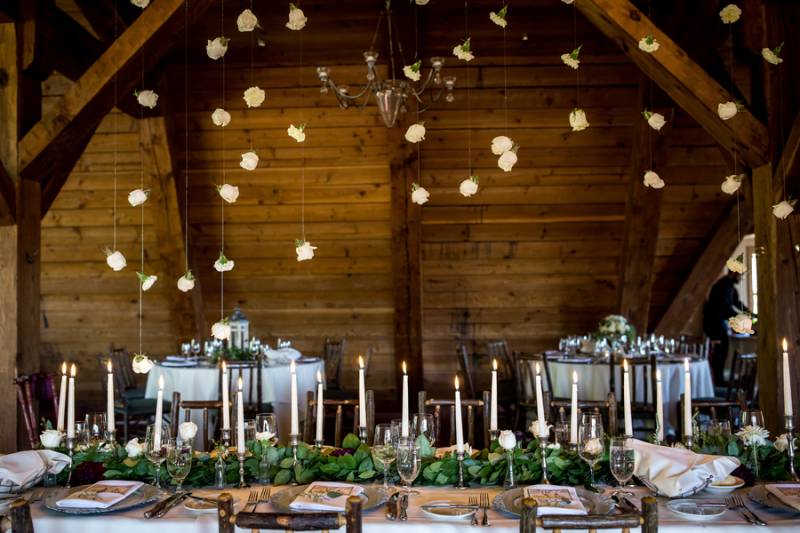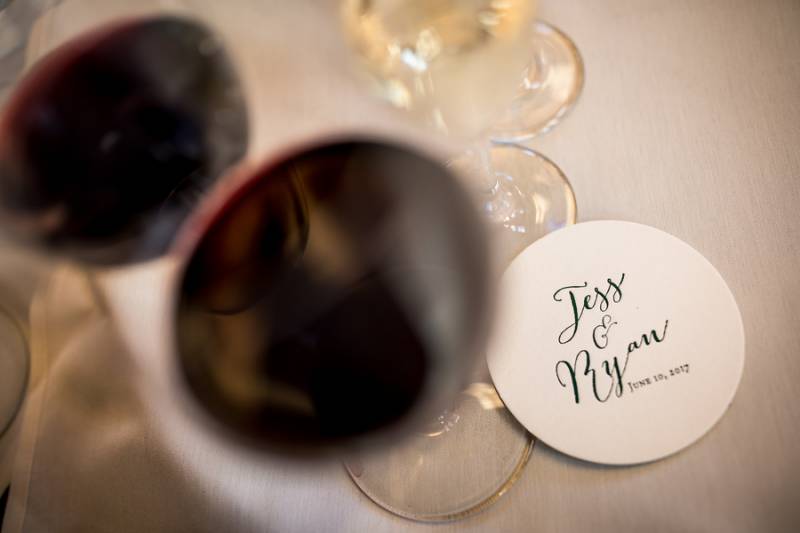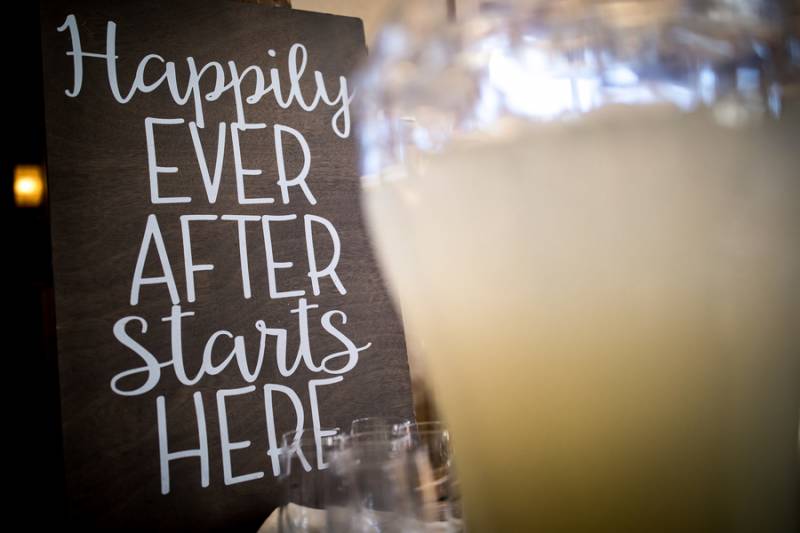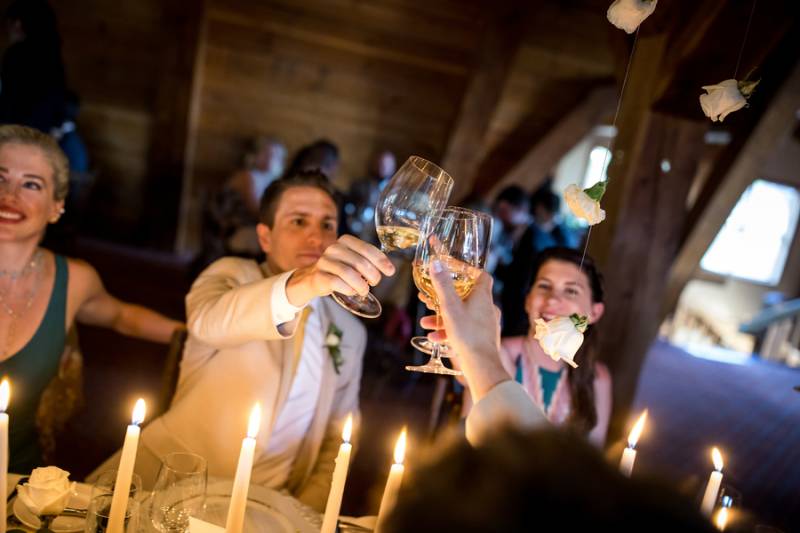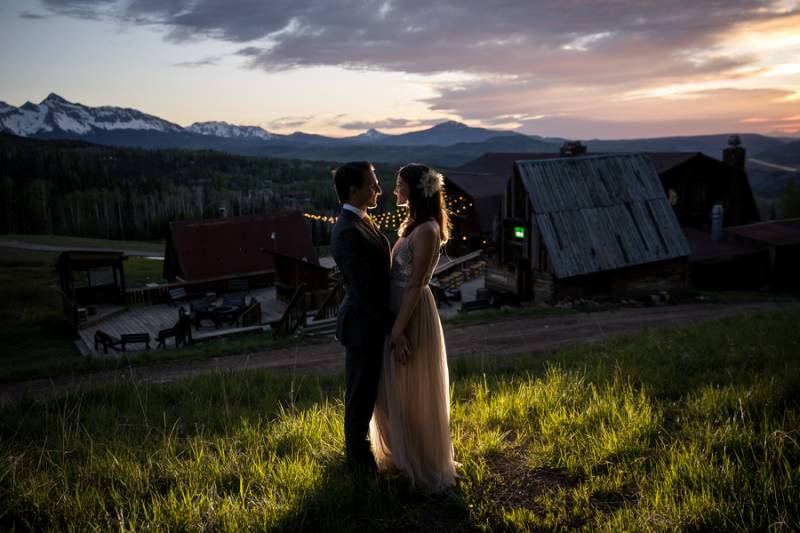 Q: What were the florals like in your wedding? Did you use flowers in any of your design elements like the bridal bouquets, centerpieces or ceremony backdrop? Did they play an important part in the overall style of your wedding?
A: Our floral bouquets and boutonnieres consisted mostly of peonies and greenery. We chose to forego floral arrangements during the sunny (and warm) outdoor ceremony, as most our guests had never seen such gorgeous mountain views. Short, understated floral arrangements that mirrored the bouquets were placed on the high top cocktail tables on the outdoor deck. The majority of the flowers were placed or installed inside for dinner and dancing. White roses invisibly hung from the ceiling over the wedding party table that featured a full floral garland with tall candle sticks from end to end. It was absolutely the most romantic setting. Every other table received either a peony arrangement or rustic lantern that fit our dining room well. Each and every little addition certainly played an important role in the ambiance.
Q: Did you personalize the day in any way (food trucks, guest entertainment etc.)? What were some of your favorite parts of your wedding?
A: Branded coasters and matches were handed out as a party favor. While not everyone was aware of these items, they were fun items that added a little something. We still use our match books in our home today, which is a fun reminder of our wedding day. Additionally, we placed one bar sign that was directed at one guest and read "No Fireball Shots Allowed. Sorry CJ". Our friend CJ absolutely loved it and kept it for himself at the end of the night. This was a silly joke, but that little sign translated that genuine, fun, welcoming feeling we hoped to achieve.
Q: Let's talk fashion. How did you choose your wedding day look? How did the groom? Describe both looks in detail.
A: The wedding dress was pale rose with sequins on the bodice. While it was fairly casual for wedding dresses, it was the perfect amount of festive for this wedding. The groom wore a classic brown suit with a white shirt and yellow tie.
Q: How did you meet? Tell us about the proposal.
A: We met through a mutual friend in Denver, Colorado and began dating about 8 months later. Ryan proposed to Jessica with her grandmothers ring above Bridal Veil Falls in Telluride, Colorado during Jazz Festival weekend in 2016. She said yes and it was perfection.
Q: What was the most anticipated or special moment of your wedding day?
A: Aside from the moment we were married, we both agree that the most special part of our wedding was having our loved ones from all walks of life in one (very hard to get to, but worth it) place: Telluride.
Q: Do you have any wedding planning or marriage advice that you'd like to share with other couples planning their day?
A: 1. Decide on real budget in advance. Then tell your vendors your budget is about 25% less than it is. This will give you a better chance at staying within the real budget. 2. Make sure the wedding is about both of you. Regardless of the food or decor, this day is about the couple coming together with the most genuine intentions. Everyone remembers that loving feeling more than the color of napkins. 3. Relax.